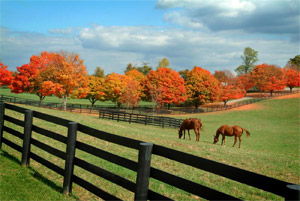 The leaves are turning and the morning air is quite crisp. Yep, fall is in full swing here in the Bluegrass State. You know what that means? Well, for us adventure seekers it means now is the perfect season to get out there and experience what Kentucky has to offer. Let's face it, Kentucky can get pretty humid during the summer months. So, in this humble mans opinion, fall and winter is the perfect time to explore! If you're looking for a great place to assist with those experiences, one place that will definitely help in your fall plans is a little place called Life Adventure Center.
Just like the name implies, these folks take adventure seriously! Their mission is to "engage, educate and empower their community to build respect, responsibility, and self-esteem using hands-on learning in a natural setting". They are located in the heart of the Bluegrass in Versailles, just down the road from Wild Turkey and Woodford Reserve distilleries. Their 575 acre farm is home to Equestrian facilities, including an indoor and outdoor arena, a 40 foot tall Challenge Course with zip-line, Environmental Education programming, and an Outdoor Adventure Program. I think it's safe to say your interest is officially "peeked"!
Their Outdoor Adventure program specializes in offering back-country adventures, backpacking, canoeing, and a ton of other activities that can cater to any variety of group! "Through environmentally sound practices such as Leave No Trace, participants take responsibility
for their impacts of the surrounding environment."
"All of the Outdoor Adventure programming options at Life Adventure Center can be customized to your groups needs. Whether the focus be team-building, communication, or just experiencing an adventure outside of your norm, LAC has the ability to create a memorable experience for you and your group. All of our activities can range from just a few hours to several days, in many locations."
Not just for wilderness adventure seekers! The Challenge Course is pretty freakin' cool too! Starting off with a 40 ft climbing wall, you have 8 high ropes elements that take you through the treetops and then down a dual zip-line across a small pond to the exit! Kids and adults alike love this thing!
Let's face it, this IS Kentucky. What self-respecting farm in the middle of horse country wouldn't have a horse or two of their own wondering around? Well, LAC is no exception! Most of the horses at LAC are used in their programming to build teamwork, leadership, and communication. If your interested in riding lessons, they do that too!
If you happen to be one of the 194,300 Kentuckians who own a horse, you will be interested to know that they have a huge network of horse trails open to the public! The only thing they ask for in return is a small donation of $10 for trailer parking! Not bad huh?!
So, if you happen to be like me and LOVE the state of Kentucky, get out there and explore it! Not sure where to start? Why not the Life Adventure Center? Give 'em a call, I know they would be happy to hear from ya!